Sally's Blog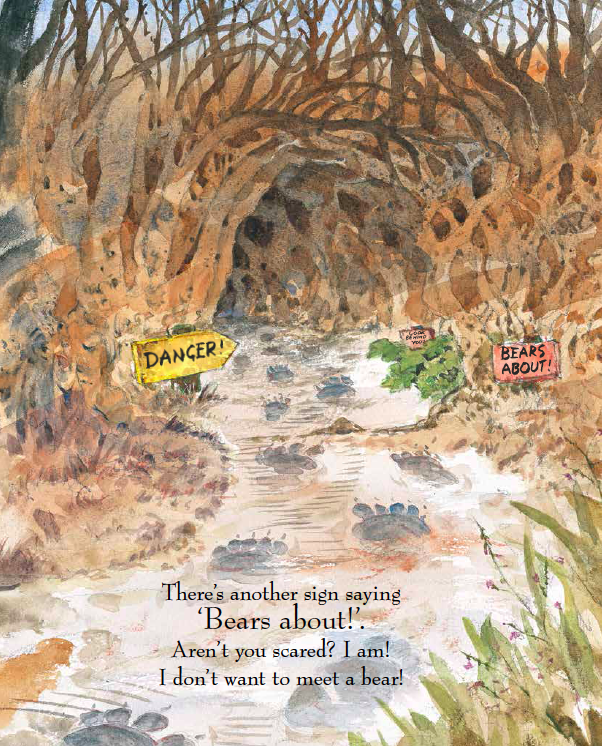 How Keep Out! came about
Date Published: 20th December 2014
KEEP OUT!, published in 2013, was a follow-up to SHHH!, published in 1991.  Of course, KEEP OUT! didn't take 22 years to write – it's only about 250 words long! – but frankly I didn't have in mind to do a follow-up.  SHHH! was a one-off idea.  It won the Children's Book Award, was runner-up for the Nestle Smarties Prize, and in many people's eyes is the perfect picture book.  Most of my books have been one-offs, and that hasn't always served me well, because series have a greater ability to garner attention and develop loyal followers.  I've had a tendency to move on to new pastures, to challenge myself in unfamiliar territory.
Even when a follow-up was suggested, I thought it would be foolhardy to try and emulate SHHH! with something similar – too much danger that it would be compared unfavourably – and I wasn't prepared to take the lazy (though sometimes lucrative) option of simply regurgitating the same story but with different characters.  But when in discussion with my publisher, Hodder, about reissuing SHHH! with a new jacket, mention was made again about a follow-up, the brain cells started to whir.  I put some ideas down on paper under the loose title of DON'T COME IN!, found it impossible to progress them, and forgot about it.
Many months later, I came across those ideas and began to mould them.  I changed the title to KEEP OUT! – more positive – decided that a bear would figure strongly, and of course it was going to be scary.  What I found impossible was to replicate the 'flap' device in SHHH!, where you look back through hole flaps cut in the pages to check that nothing has changed in the scene you have just left.  It's a device that works brilliantly, and I was keen to use it again.   However, I also wanted KEEP OUT! to cover different ground.  I wound up using flaps in the traditional way, where they simply cover part of the picture and open to reveal something funny or scary.
I left my manuscript to settle, certain that it wasn't quite right and was lacking the je ne sais quoi that marks out SHHH!  I came back to it once or twice, but had no confidence in it.  Then, one day, after Hodder had asked me yet again about a follow-up, I dug it out and realised that with a few small tweaks it was actually pretty good.  So did my publishers on both sides of the Channel.
There was never any doubt that Peter Utton would illustrate KEEP OUT! The different perspectives he uses provide such variety, and the little extras he adds to his illustrations to keep you going back for more are genius.  Who knows why he came up with Beware of the Broccoli, makes me smile every time I see it, and look out for all the eyes and funny hidden creatures.
A key difference between SHHH! and KEEP OUT! is that in SHHH! the reader encourages the audience to keep advancing through the book, albeit quietly so as not to alert the giant of their presence.  In KEEP OUT! the reader is a reluctant participant, hesitant to go forward, occasionally determined to go back, while the audience is allowed to decide whether or not to progress through  pages where bears might be lurking.
As for those lurking bears, we know after a while that there are likely to be three and that they will vary in size, but are we really prepared for the appearance of one enormous bear, sporting a diamond-patterned woolly jumper, to leap out at us as we come to the end of the book?  Peter had to come up with just the right degree of scariness, so had several attempts at sharpness of teeth and openness of mouth.  I think we got it just right.  Of course, we can slam the book shut just as the danger becomes too much, and everyone can breathe a sigh of relief over a narrow escape – before starting the adventure all over again!
< Back to Blog