Books by Sally Grindley
< Back to Books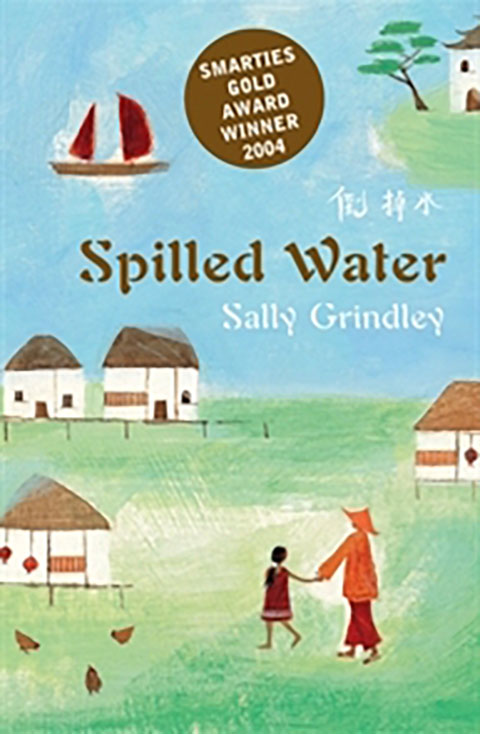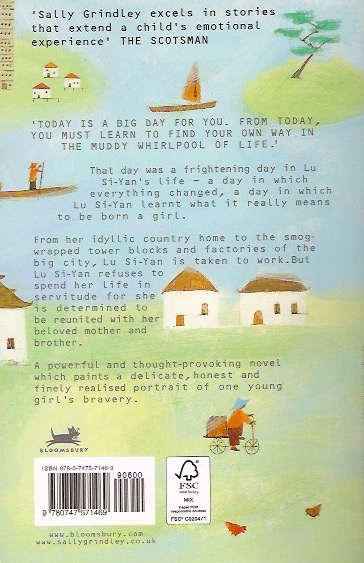 Spilled Water
Date Published: 2005
Publisher: Bloomsbury Publishing
Winner of the Nestle Smarties Prize Gold Award
Winner of the West Sussex Book Award
Winner of the Lincolnshire Young People's Award
'With a brilliant first-person narrative and a powerful description of time and place, this novel is gripping, heart-wrenching and utterly mesmerising.'  The Guardian
'Beautifully written.'  Daily Telegraph
'Compelling.'  Sunday Times
I was inspired to write this story by an article in a newspaper, about girls being taken to market and sold. It kept nagging away at me, and eventually I felt I had to write about a girl in such a situation. Lu Si-yan is only eleven when her uncle takes her to market and sells her to a cold, calculating couple.  She escapes, but her plight worsens when she is forced to work in appalling conditions in a factory.  The friends she makes there, and her determination to be reunited with her mother and little brother, are the only things that keep her going.
https://shepherd.com/book/spilled-water
Talking Points
Topic areas:
1)  Family relationships.
2)  'One child' policy in China.
3)  Girls in Chinese society.
4)  Child slave labour in different parts of the world.
5)  The importance of friendships.
6)  Sweat shops and poor working conditions.
7)  The flooding of the Yangtze.
8)  Old ways of life versus new ways of life: village versus town.
9)  Enforced relocation/sacrifice of the individual to state policy.
10)  Poverty versus wealth.
Character studies:
1)  Uncle Ba – a thoroughly nasty piece of work, or an exasperated relative who is tired of supporting his brother's family?
2)  Lu Si-yan – role as a loving daughter and 'spilled water' – a wasted life.
3)  Li Mei – a true friend.
4)  Mr and Mrs Chen and Mr and Mrs Wang – child exploitation.
close
Available to purchase from all good bookshops, or